These days, it seems like there are Poodles mixed with other dog breeds everywhere. Poodle hybrids are becoming more and more common.
The Labradoodle, a Labrador-Poodle hybrid, is probably familiar to you. However, maybe you've just now heard of an Australian Labradoodle. Although similar, this breed of dog is nevertheless rather different and unique. 
Australian Labradoodles are a special breed of dog bred to be more consistent in their behaviors. They have also been bred for longer than most other breeds, which means they have been tested and studied for generations.
With the intention of creating a new purebred with its own breed standard, the Australian Labradoodle is a distinctive canine that was crossed between six existing dog breeds. So let's look at where you may adopt an Australian Labradoodle as well as what to anticipate when doing so.
Australian Labradoodle vs. Labradoodle: Is there a difference?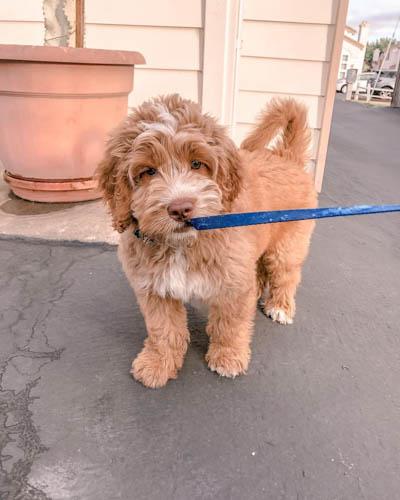 Although they have similar names, the Australian Labradoodles are, in fact, very different from regular Labradoodles.
While the typical Labradoodle has one Labrador parent and one Poodle parent, the Australian Labradoodles can be a blend of up to six different breeds– namely: the Labrador Retriever, the Poodle, the Cocker Spaniel, the Irish Water Spaniel, the American Cocker Spaniel, and the Curly Coated Retriever.
These breeds were thoroughly selected and mixed to develop a low-shedding dog with a great personality and temperament.
Since the 1980s, Australian Labradoodles have been bred in this manner. Breeders are still working to create a set of characteristics unique to this breed. They believe that by reliably passing these specific traits down from one generation to the next, an Australian Labradoodle's personality traits will be much more predictable than those of other mixed-breed dogs.
Australian Labradoodle Temperament and Personality
Australian Labradoodles are known for their love of people, affectionate nature, and high energy levels. They're also known to be highly intelligent and easy-going. They are extremely active dogs which makes them good for families with children. They love to play with their owners and other animals in the home.
The Australian Labradoodle's temperament is described as friendly and calm. They are known to be highly trainable, friendly, energetic, and intelligent dogs who love to play with toys or chase balls. They are affectionate towards their owners but do not like being alone for long periods of time.
They make excellent guard dogs because they protect their owners' property and family members and enjoy being around people. They make good watchdogs because they bark loudly when someone comes to the door or window but rarely attack unless provoked by another animal or human being.
They can be protective of their owners and family members, but they're also very affectionate, so if you're looking for a dog who is happy to snuggle up after work hours, this is the perfect breed for you.
Are Australian Labradoodles Good For Families?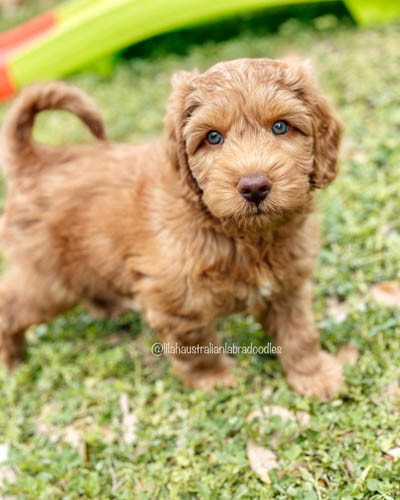 The Australian Labradoodle is very friendly and playful, making it great for families with children. They are usually gentle with children and other dogs, but they can be aggressive if they feel threatened by other dogs or humans trying to hurt or get too close to them. 
They have an average lifespan of 10-12 years, and they're known for their intelligence and high standards for behavior. They are also known for being independent thinkers, which means they may not always listen to commands given by their owners due to their independent nature. 
Australian Labradoodles are a great choice for families. They're loyal, loving companions with a lot of energy who will keep you on your toes.
Although Australian Labradoodles can be good family dogs, they have some specific needs that must be considered.
They are known for their high intelligence level, requiring stimulation and mental stimulation from their owners. They also need to be given plenty of exercise, so they don't become bored or destructive.
Another thing that makes Australian Labradoodles unsuitable for families is the fact that they can suffer from separation anxiety if left alone for too long without human contact or interaction with other people who care about them, such as family members or friends who visit regularly.
Caring for Australian Labradoodle Dogs
Do you love a fluffy, cuddly dog that makes you smile? Are you looking for a dog that is a little different from the usual breeds—one that doesn't look like every other dog out there? Then Australian Labradoodles might be the breed for you.
Australian Labradoodles stand around 24 inches tall and weigh about 77 lbs when fully grown. On average, male dogs are expected to be larger and heavier than their female counterparts. They have medium-sized bodies with straight back legs and compact bodies with thick bone structures that make them sturdy enough for outdoor activities such as hiking or running around with their owners on long walks through the park near home. 
Australian Labradoodles are intelligent and easy to train, but they do best with consistent, positive training methods. This breed makes an ideal house companion because they don't require much exercise but still enjoy being around people.
Where To Adopt Australian Labradoodle Dogs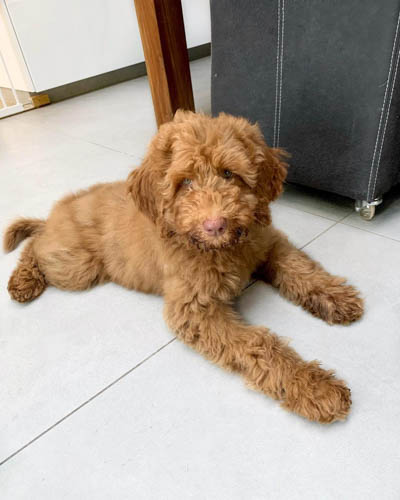 Regarding adoption, there are a few things to keep in mind. First, you'll need to decide if you want to adopt from a shelter or a rescue organization. Each option has pros and cons, so it's important to do your research before deciding.
If you're set on adopting an Australian Labradoodle with a specific set of traits, then your best bet is to find a reputable breeder. This is the only way to guarantee you'll get a healthy, well-bred puppy. However, be prepared to spend a bit more money on a breeder-purchased puppy than you would if you adopted from a shelter. 
The best and most ethical place to find a labradoodle is at a shelter or rescue organization. These organizations often have plenty of dogs available and may even be able to help you find one that matches your personality or needs better than one that is already living in your home would do so easily.
Conclusion
Before adopting any dog, it's important to do your research and make sure you're prepared to commit to taking care of your new furry friend for the animal's entire lifetime. Dogs are a big responsibility, but they can also be fun. If you're ready to add a dog to your family, an Australian Labradoodle might be a perfect choice.