The Aussiepoo Dog Breed comes from a mix between an Australian Shepherd and a Poodle. They are a popular designer breed because they are intelligent, have low-shedding coats, and are considered to be hypoallergenic. Aussiepoos are popular for being gregarious and outgoing, which makes them excellent family dogs.
Everything you need to know about Aussiepoos, including their temperament and personality, will be covered in this article. We'll also provide some tips on whether or not an Aussiepoo is the right dog for you and where you can go to adopt one.
What Is an Aussiepoo?
Aussiepoos result from cross-breeding an Australian Shepherd with a Standard, Miniature, or Toy Poodle. Aussiepoos can come in various colors, including blue merle, red merle, a combination of black and red tri, a combination of black and tan, parti, sable, or even a solid color, but only in rare cases. They typically have a medium-length coat that is thick and curly. 
Depending on what type of Poodle was mixed with the Australian Shepherd, the size of an Aussiepoo varies, but they are in the small-medium range and usually fall between 30 and 50 pounds.
These cute fluffballs are very friendly and have a lot of energy. They are also very intelligent dogs and can be trained to do tricks easily.
Many people are drawn to Aussiepoos because of their low-shedding coats, which many mistakes as hypoallergenic. It's important to understand that no dog is truly hypoallergenic. If you're allergic to dogs but still want to adopt a furry friend, an Aussiepoo might be a good option.
History of the Aussiepoo Breed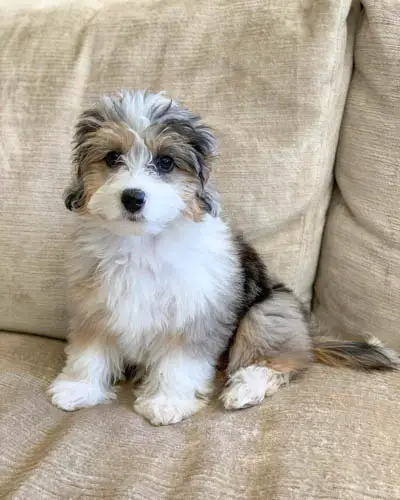 The Aussiepoo is a relatively new dog breed, but it is widely believed that they were first bred in the United States in the early 2000s. Because they are a designer breed, there is no definitive history of the Aussiepoo. However, we know they were created by crossing an Australian Shepherd with a Poodle. 
The Australian Shepherd is a herding dog originally bred in the 19th century in Australia (hence the name). They were brought to the United States in the early 1900s and became popular work and family dogs. 
One of the oldest canine breeds in the world is the Poodle. They were initially developed in Germany as hunting dogs, but in the 18th century, they became well-known in France. Poodles eventually made their way to the United States, becoming known as one of the most popular dog breeds. 
When bred together, Australian Shepherds and Poodles make excellent family pets. They are intelligent, obedient, and have a low-shedding coat that is considered to be hypoallergenic. Aussiepoos are also outgoing and friendly, making them great with children and other pets. 
They are also known as Aussiepoos, Aussiedoodles, or Aussiepoos. The intelligent, devoted, and loving Aussiepoos are a wonderful breed for families. 
Aussiepoo Temperament and Personality
Aussiepoos are renowned for their intelligence and simplicity in training. An Aussiepoo can be a wonderful option for you if you're searching for a dog that will be able to pick up tricks and commands rapidly.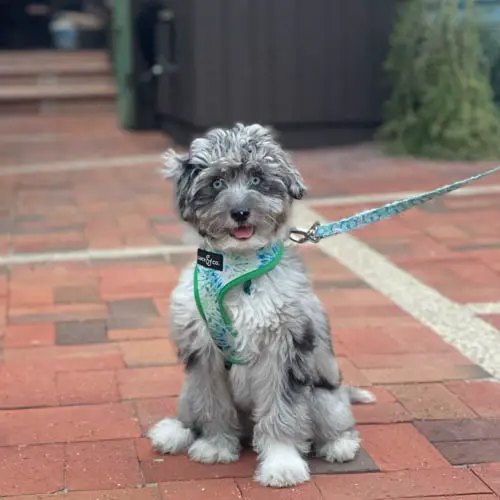 They are also relatively easy to potty train, although, like all dogs, they may have the occasional accident. When it comes to temperament, Aussiepoos are typically outgoing and friendly. They love spending time with their families and are good with children.
Are Aussiepoos Good With Families?
An Aussiepoo is a great choice for families looking for a friendly, outgoing, and intelligent dog. They are also a good choice for people who have allergies, as they are considered to be hypoallergenic. 
If you are considering getting an Aussiepoo, make sure that you are prepared to provide them with plenty of exercises. 
Caring for an Aussiepoo
Even though Aussiepoos don't shed much, they still produce dander (dead skin cells) that can trigger allergies in some people. If you're considering an Aussiepoo, be sure to spend some time around the breed first to see if you have any reaction to them.
However, they can also be somewhat energetic, so if you're looking for a low-key dog that will spend most of their time lounging around the house, Aussiepoos might not be the right breed. They do best in homes with yards where they can run and play.
Where To Adopt An Aussiepoo?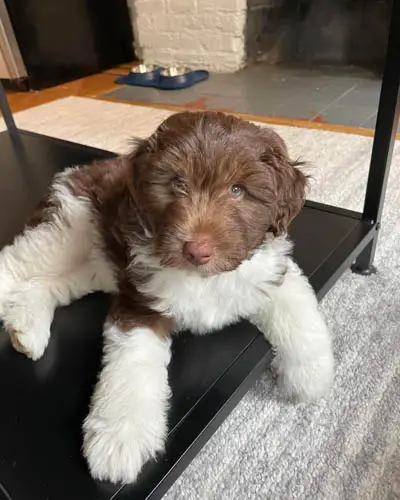 If you think an Aussiepoo is a right dog for you, the next step is to find one to adopt. There are a few different ways to go about this.
If you know of anyone who has an Aussiepoo, you could ask if they're planning on breeding their dog and if they would be willing to sell you one of the puppies.
Another option is to contact a local animal shelter or rescue group specializing in Australian Shepherds or Poodles. They may have Aussiepoo mix dogs available for adoption. 
You could also search online for Aussiepoo breeders. Be sure to research before purchasing a puppy from a breeder, as there are many puppy mills and unscrupulous breeders. 
Aussiepoos are a designer breed, so they can be on the pricier side. Puppies usually cost between $600 and $1,200. The price will depend on the breeder, the coat color, and other factors. 
Be prepared to pay more if you're looking for specific coat color. For example, Aussiepoos with blue or merle coats are usually more expensive than those with black or red coats. If you're interested in adopting an Aussiepoo, you may be able to find one for less than the average price.
Things To Consider Before Adopting An Aussiepoo
If you're interested in adopting an Aussiepoo, there are a few things you should keep in mind.
First, Aussiepoos require a lot of exercises. They need at least 30 minutes of physical activity daily, and more is always better. An Aussiepoo might not be the best dog for you if you lack the time or the motivation to accommodate their highly energetic needs into your daily schedule.
Second, Aussiepoos are resilient and have a lot of energy. They can be a lot of work; if you're not prepared for it, they can quickly become too much to handle.
If you think you can provide an Aussiepoo with the time, energy, and attention they need, then go for it! They are wonderful and loyal companions who would make your life happy. Just make sure you do thorough research and adopt from a trustworthy source.