Aussiedoodle is a crossbreed of Poodle and Australian Shepherd. If you want a playful, intelligent, and loyal dog, this breed is for you. Do you want to adopt Aussiedoodle puppies but don't have an idea where to get one? Don't worry because this article will guide you.
Aussie And Me Animal Rescue in Florida
One of the best places to adopt Aussiedoodle puppies is Aussie and Me Animal Rescue, based in Florida. It is operated by a family that is committed to rescuing high-risk and homeless dogs from shelters. You can find Aussiedoodle from dog owners who can't take care of their pets anymore.
The organization works with local veterinarians, foster homes, trainers, volunteers, and boarding facilities to offer rescued Aussie's care.
In addition, Aussie and Me Animal Rescue also provides education on the community on how to be a responsible pet owner like positive behavior training, proper nutrition, and neutering/ spraying.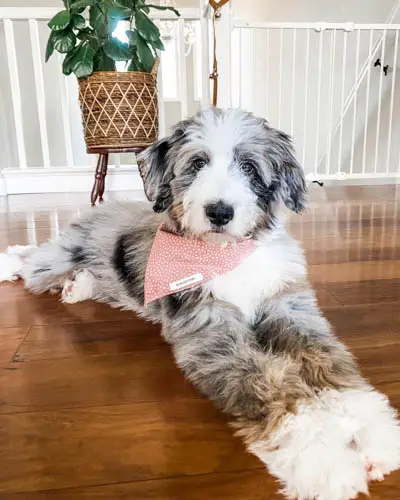 The dogs are put into private foster homes before they leave for their new homes. Aussiedoodles are treated like family members in their foster homes. In addition, the dogs get medical care to enhance their life.
If you want to adopt Aussiedoodle from Aussie and Me Animal Rescue, you should be 18 years old and above. Additionally, you need to enroll your puppy in a training class within 30 days of adoption.
New Spirit 4 Aussie Rescue (All States)
Another place where you can adopt Aussiedoodle is the New Spirit 4 Aussie Rescue. It is an all-volunteer rescue that aims to help Aussie mixes and Australian Shepherd across Canada and the United States. They already rescued more than 3500 dogs involving Aussiedoodle.
The rescues of New Spirit 4 Aussie Rescue usually come from surrendered dogs and high-kill shelters. If you want to adopt your puppy from them, you need a veterinarian's verifiable references. You also need to be ready for a home visit.
Thus, they want to ensure that you're going to take care of the dog as you adopt them. The Aussiedoodle has basic shots done, neuter, spay, worming, and heartworm testing.
Aussie Rescue & Placement (Utah)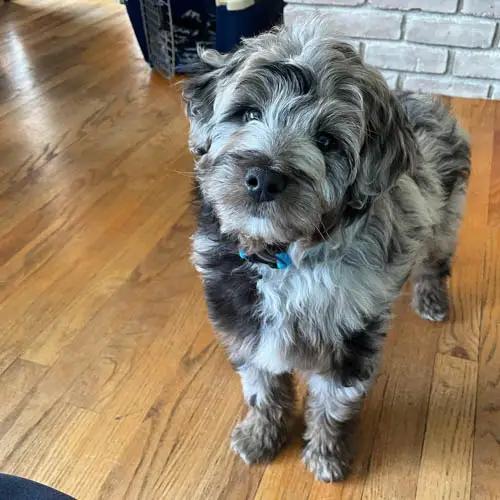 You can adopt an Aussiedoodle from Aussie Rescue & Placement in Utah. They are a volunteer-operated organization that is committed to rescuing Australian Shepherds and Aussie mixes, including Aussiedoodle. They want the dogs to get permanent and loving homes.
Aussie Rescue & Placement was established way back in 1992 by three friends who want to help abandoned and homeless Aussies. Most of their rescues are adults or young adults. Meanwhile, most of their rescues are male than female. The dogs are neutered and spayed, cleared for parasites, and have up-to-date vaccinations.
Lone Star Aussie Rescue (Oklahoma/ Texas)
The Lone Star Aussie Rescue was founded way back in 2017 to help Aussie mixes and Australian Shepherds who are in need. The organization aims to save the big Aussie population at risk of euthanasia in Texas.
Thus, Texas is among the worst states of euthanized and stray dogs each year. Their rescue dogs are also placed in foster homes in Oklahoma and Texas. In addition, they process local adoptions to have easy meet and greet sessions and home visits.
Aussie and Friends Rescue in Arizona
They are a volunteer-run organization that aims to offer Aussies and Aussie mixes a second chance. Most Aussiedoodles are surrendered by pet owners and rescued from shelters. The organization makes sure that the dogs receive proper checkups and clearance.
The dogs are micro-chipped, neutered/ spayed, and kept up-to-date with vaccinations. They are also placed in foster homes while waiting for their lifetime homes.
Now that you discovered the best places to adopt Aussiedoodles, it is essential to know more about them.
Things to remember before adopting an Aussiedoodle
Before adopting your Aussiedoodle, consider the following reminders.
Aussiedoodle requires training
Once you adopt your Aussiedoodle puppy, make sure to provide your pet with proper training. It takes time and patience to train your dog. However, it is worth it since it can help you establish a good friendship with your Aussiedoodle.
They may suffer from health issues.
Keep in mind that your Aussiedoodle may also suffer from health issues. So, you can get pet insurance for the vet bills. However, you should also be responsible for the medical needs of your dog.
They need adjustment from a rescue to your home.
Your pet also needs adjustments since your home can be a new environment for them. They can be anxious or shy in the first few weeks. You can help them to adapt to your home.
They may need lots of exercise and attention.
Aussiedoodle is an active dog and considered an Einstein breed due to its intelligence. Therefore, you should give them plenty of exercise and attention.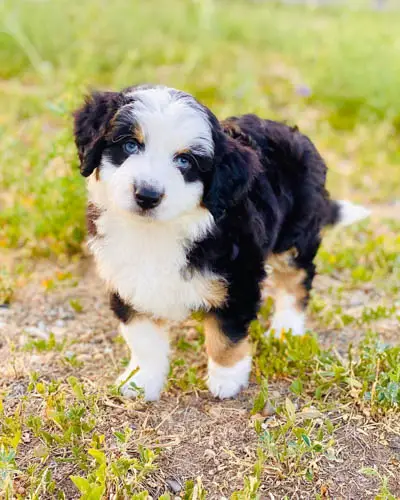 Is Aussiedoodle worth it as a family pet?
If you wonder whether Aussiedoodle is a good family pet, the answer is yes! They are also good with children, but you need to supervise them. This breed is also a good therapy dog that loves to be with its human family.
Aussiedoodle is also hypoallergenic, making it ideal for allergy sufferers. Since they are an intelligent breed, provide them with mental stimulation to avoid boredom and loneliness. With this, you can prevent them from being destructive.
Just like humans, Aussiedoodles also deserve love and care. With this, make sure to provide your pet his or her basic needs. Give your proper pet nutrition, regular exercise, and medical assistance.
It is also necessary to give your pet more playtime and attention to make them feel loved and special. It can help them avoid boredom and separation anxiety which may trigger their destructive behavior.
Conclusion
Aussiedoodle can be a good pet. You only need to provide them with proper training to help them adjust to their new environment. Do you want to get a loyal and smart family dog? Then, it is time to adopt an Aussiedoodle today! With this, you can help prolong the life of the dog and have a lovable best friend.