Shih Poo is a cross-breed of the Chinese Shih Tzu and a Toy or Miniature poodle. They have very pleasing characteristics and traits.
They are a good companion, friendly, intelligent, and confident. These cross-breed dogs are wonderful cuties that you may find shy, playful, affectionate, and loyal.
Shih Poos are normally called purse dogs or designer dogs because of their size. They are great apartment dogs because they don't bark a lot. They have cute button eyes and floppy ears like teddy bears,
You may find various colors like white, brown, grey, and black. Also, they can be in a curly coat or with straight fur that they might inherit from both the Shih Tzu and poodle.
Shih poo can weigh between 8 and 18 pounds (8.16 kg) and high between 8 and 12 inches (30.48 cm). They are also fairly athletic pets who can enjoy your everyday jogging.
Shih Poos can live for approximately 16 years if they are relatively in good health. Also, these wonderful cuties are hypoallergenic as they receive these genetic traits from the Poodle breed.
Shih Poo may have breathing issues because of the short snout possibly inherited from Shih Tzu. So, it is advised to watch them during the summer to prevent heatstroke carefully. Also, dental problems must be looked after as well, which are common to small dogs.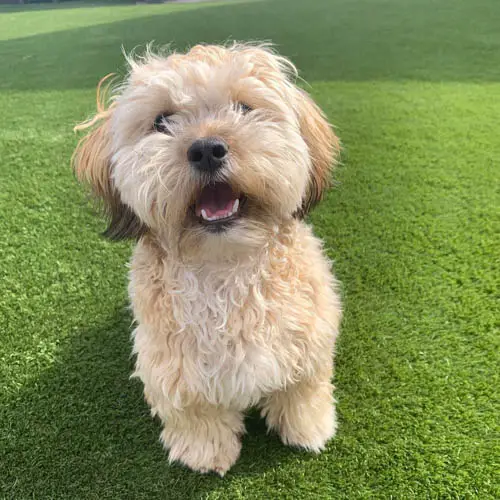 What to consider if planning to adopt Shih Poo?
If you are looking for a perfect Shih Poo pet, and living in the US, here is some information you may consider. It is not easy to rescue or adopt Shih Poo because they are a new dog breed, and some minimal people surrender these kinds of dogs.
But, if you are determined, there are numerous Shih Poos reportedly adopted in a year. Also, many pet lovers are looking for them. 
Shih Poos are a very nice addition to your family, especially when you live with older children. These cute dogs sometimes hesitant around the playful environment with younger kids, but some training can work it out.
However, you may find it difficult to rescue Shih Poo because, as mentioned, their breed is still not that popular. You can search by using Shihpoo, Shih poo, Pooshih, or Shih Tzu and poodle mix. Google will show you several results for each name. 
Also, the Shih poo population is still very minimal, like it only has a very small percentage among all kinds of dog breeds around the US.
They are also indoor dogs, so there is a very low chance or possibility that you will find them in the shelters locally or regionally.
Many shelters also have a chance of not knowing or classifying a Shih Poo because they are mixed breed and no standard identity.
Likewise, you have to note that Shih Poo likely does not stay long in the shelter because, generally, the smaller dog breed adoption process is shorter, which is more convenient for people who want to adopt them.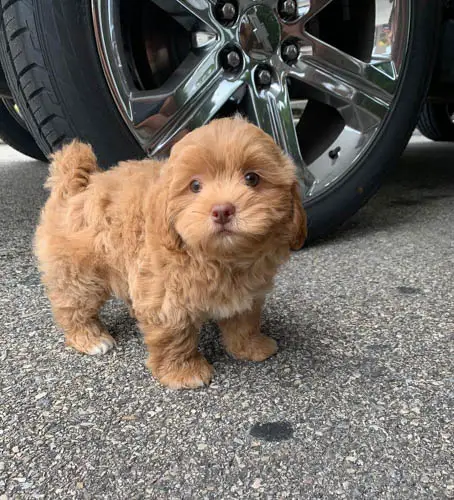 In terms of cost, how much do you think you should expect to pay when you go for rescued dogs. Many shelters range for less than $100 but can also reach $600 depending on the Shih Poo's condition.
However, some non-profit rescue shelters might charge you more. This may include the fees of taking care of the dog during the days it stayed in its shelter. They will ask you to pay for the fees on vaccinations and sterilization.
Although, compared to a non-rescue dog, those fees can still be less if you are the one who directly pays for the services. Nevertheless, these expenses are worth saving a beautiful dog.
Where can you find Shih Poo for adoption?
There are many animal rescue shelters around the US where you can check for any chance of having a Shih Poo for adoption. You can find these rescue shelters locally, by region, in your state, or across the whole country.
Once you found a shelter, they normally provide you the details and features of the dog that you would like to adopt.
And, of course, the most common search place now is online. There are many online programs that you may use to look for Shih Poo for adoption.
You need to be patient as it will also take your time because you will find hundreds of pictures that will show up. You might find confusion on the breeds of mixed Shih Tzu and poodle puppies.
But you can always ask all the details about the dog that might catch your attention. They are always ready to give you all the details, so do not hesitate to ask.
It really may take time, like months, to wait until you find Shih Poo available for adoption on several online platforms. You need to monitor the website yourself not to miss any chance closely.
If you are looking for a Shih Poo online, it is advised that you need to be clear with your search criteria. Try to check your chosen online platforms daily, be consistent and patient. Bookmark the rescue website pages that you went through.
Another very easy way to search for rescue dogs for sale is on social media. Just search for the keywords; Shih Poo, small dogs, rescues and shelters for small dogs, and Shipoo rescue shelters. You can also always select to get notified immediately in case there is Shih Poo already available for adoption.
You may find Pet listings on newspapers, televisions, and even in your local town might have pet listings for adoption or sale. 
Enlisting help is also a great option and more personalized for you. You can also post on social media platforms. You may reach out to your friends, families, neighbors, work colleagues, and make them aware that you are searching for a Shih Poo for rescue or adoption. 
Finding Shih Poo for adoption can be either difficult or easy. However, there are a lot of options to search, as mentioned above. All you need to do is search, be active, and be consistent. Surely, there will be available cutie Shih Poo that will come along for you to be adopted and add to your family.