If you are looking for the most wonderful puppy, then the Yorkie puppy is an excellent option for you to adopt.
It has an illustrious fur that looks perfect in all the environments.
Yorkie puppies are also considered as a price toy dogs due to their majestic appearance.
It also has a sassy attitude, and the puppy loves bonding. It is considered as a lap dog and has humble beginnings. 
The puppy house Rapunzel-like hair, but his attitude is quite bossy.
If you have an entertaining household, then the Yorkshire puppy will be the right fit for you.
There are various types of things that you should find out about the Yorkie puppy to give them the best care when you adopt them.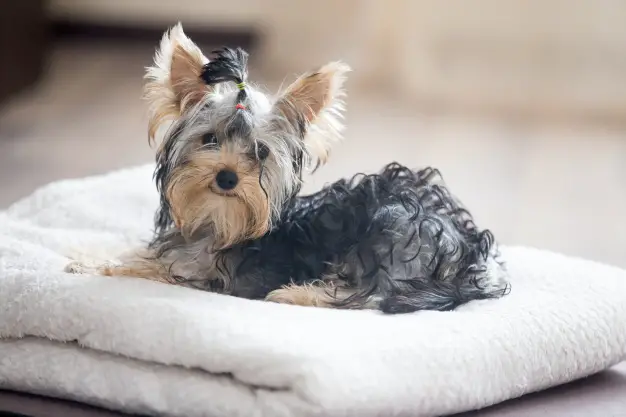 You need to make sure that you get all the required information about the puppy regarding its height, personality, behavior, traits, age, weight, and all the other things.
Such things will only help in making it easier for you to give them the best care so that they can become comfortable in your household.
You need to start a proper routine in your household to provide the best care for the Yorkie puppies.
What is the size of a Yorkie puppy?
The ideal weight for a Yorkie puppy is about 7 pounds, and its height can range from 7-8 inches. It is a cute little puppy and often sits on your lap to get the effect. 
What are the unique characteristics of the Yorkie puppy?
A Yorkie puppy is a small dog and despite that good proportion. When you see a Yorkie puppy walk, you can find him full of confidence.
The bluish-grey coat or fur is naturally straight on him. It is evenly spread on his entire body, and the court is hypoallergenic.
So the people who have allergy due to the fur or hairs can adopt a Yorkie puppy as they do not shed hairs, which is quite comfortable for you.
Details you need to find before adopting the Yorkie puppy.
So before you consider adopting a Yorkie puppy, you need to get all the required information about them.
This will help you to make the right decision and ensure that you give a comfortable experience to the Yorkie puppy in your house.
The behavior of Yorkie puppy –Even though they look somewhat delicate, these toy puppies have a great personality. They are favorite pets for all the city people as they are perfect for apartments and big city life. When they have a calm and pleasant home, then they have a cool personality. They can also work as a watchdog if required.
Proper grooming –You have to brush the hair of Yorkie puppy every day,just like human hair. If you want to keep the illustrious shine in the hair, then you should also watch them and trim them whenever required. If the hairs remain unchecked, then it can go longer than two feet. You can also make a bun to make them look stylish and protect the eyes of a Yorkie puppy from irritation.
Training Yorkie puppy –For the training of Yorkie puppy, you can give them rewards. They often strive to pleasing humans, and that is why you will often get positive results in training. It is essential that you slowly introduce them to these new things so that they do not get overwhelmed with it. They show high-intelligence and love participating in different courses.
What is the life span of a Yorkie puppy?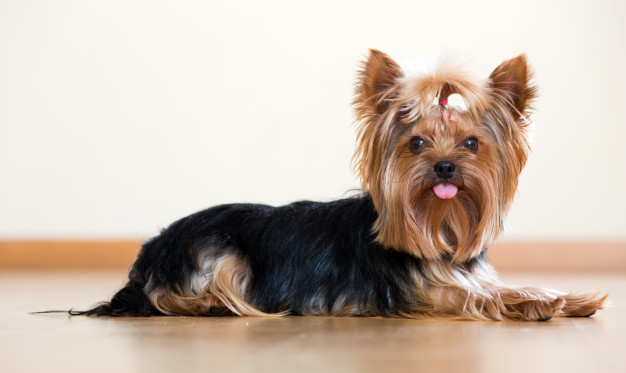 The life span of a Yorkie puppy is between 11-15 years. If you find a 2-3 years old Yorkie puppy, then you should consider adopting them as they will be your perfect partner for many years.
Who is compatible with the adoption of a Yorkie puppy?
The Yorkie puppies are known as the city dogs, and they are perfect for the apartment environment.
If you live in a small apartment and want to get a puppy for your child, then you can consider adopting a Yorkie puppy.
It can be restless at first, but as it spends more time, the puppy will become friendlier with you. 
If you have the patience to handle everything, then the Yorkie puppy is the perfect partner. 
It is intelligent, and always show affection to their owner. The puppy is also known for its ability to learn new things.
You can take some time and give proper training to the Yorkie puppy.
You must train them for basic obedience and help them learn some simple tricks.
So you can complete the adoption procedure of a Yorkie puppy. These adorable and cute little puppies are perfect for every person.
You can simply do all the required things and give them the best care. They often love to sit on your lap, which is an adorable thing to do.
So if you are looking for a partner, then these cute little puppies are perfect for you.
You can find all the details regarding the adoption of the pet store and complete all the required steps.