Havanese puppy is one of the brightest and athletic of all the toy puppies. It has a happy and playful nature, and you will surely fall in love with him when you first meet him.
He loves playing smart games, and you can try out various types of games to have a good time with him at the house—the Havanese puppies are very people-oriented dogs. 
It loves to snuggle in your lap and can become only dependent on you.
If you left them for long periods without any companionship, then they will become lost and feel sad.
When you left them unaccompanied, then they will feel unhappy and bored. They can express this feeling through barking or showing all the things. 
Havanese puppy is often peaceful and gentle with almost everyone.
Socialization with people is essential for Havanese puppies so that they can become confident and comfortable in going out.
It has the potential for excessive caution. If you want to train them for anything, then the show effective results with food rewards. They excel in obedience and speed.
How to take the best care of the Havanese puppy?
Make sure that you provide the best care to the Havanese puppies so that they can become comfortable in your house.
When you remain friends with them, then you can find that they are the perfect partner.
Here are some of the things that you can do to provide the best care for a Havanese puppy.
Implementing a routine and proper training –You must implement a proper routine for the Havanese puppy. You need to give them proper training to ensure that they remain attentive all the time. You can teach them some new tricks and give them food rewards so that they can love the training and remember everything that they learn.
Giving a balanced diet –You need to make sure that you focus on providing a healthy and balanced diet to the Havanese puppies. It should contain all the required nutrients and minerals so that they can become fit and healthy. You can take the help of an expert to learn about the things that you can give to the puppy.
Socializing the puppy –Make sure that you socialize the Havanese puppies so that they can become aware of everything. If you do not give them proper exposure, then they might become timid and scared of every little thing.
Health checkup –Always get regular health checkups for how many copies so that you can learn whether they are fit or not. Before you adopt a puppy, you should get a health checkup for them so that you can provide proper care if they have any issues.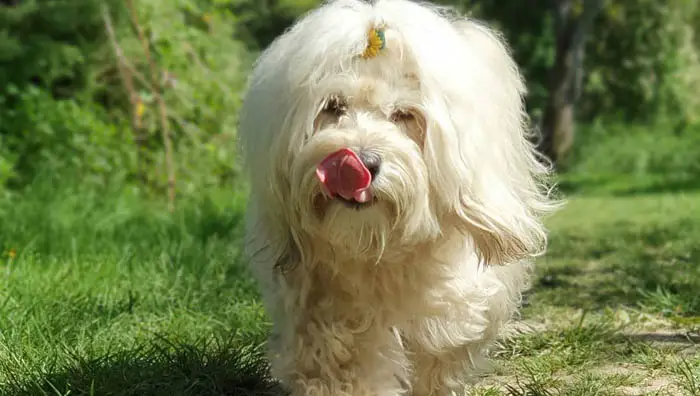 How to groom a Havanese puppy?
When it comes to grooming, the Havanese puppies do not shed a lot of hair.
They do have a long coat, but you can keep it very short to get easy maintenance.
If you do not want to do regular grooming, then you can cut the coat short. You can also take them to a professional to give them proper grooming services.
Due to the low shed, they are perfect watchdog.
How is the behavior of a Havanese puppy?
The Havanese puppy is often recognized as peaceful and gentle with almost everyone. They can be conservative when they meet a stranger.
It becomes essential for every pet owner to socialize the Havanese puppies with new people to build confidence.
If you do not take them outside, then they can become timid. They often have an independent streak, and they are not considered as a dominant breed.
If you give them proper training, then they will give a proper response to it, and giving them food rewards will help them to love the training.
Many Havanese puppies excel in obedience and agility.
Reason to adopt a Havanese puppy
When it comes to the adoption of a Havanese puppy, you have to consider various types of factors before making any type of decision.
Make sure that you find out all the information about the Havanese puppies before you adopt them.
These are some of the reasons why Havanese puppies are so popular, and you should walk adopt them right away.
The puppy does not require too much exercise.
Havanese puppy is playful and entertaining.
It is a great watchdog without being too aggressive.
Does not shed too much hair
Friendly with other pets
So if you are looking for a cute and friendly partner, then you should consider adopting a Havanese puppy.
You need to complete all the basic adoption legality to complete the process.
You must always implement the right methods to take the best care of the puppy.
You need to get all the required details and prepare a comfortable bed for the puppies when they arrive at your house.