The Teacup Yorkie is a dog breed, which is also called Toy Yorkshire Terrier, Pocket-Sized Yorkshire Terrier, Mini Yorkshire Terrier, Micro Yorkshire Terrier, or Miniature Yorkshire Terrier.
This breed has been given these names on the basis of its low weight. It was named Yorkshire when it was brought to Yorkshire city, England by immigrants in the 1800s.This Yorkie is so small in size that it can literally fit in a tea cup.
A Miniature Yorkshire Terrier commonly weighs between 1 lb. and 4 lbs., while the standard weight of a regular Yorkie is 7 lbs.
With half the weight of regular Yorkies, these Teacup Yorkies are easy to carry around. The average height of these small pups is not larger than a hand.
Lifespan
Regular Yorkshire Terriers live up to 12 to 15 years on average, but the lifespan of this mini breed is relatively less at7 to 9 years due to the multiple diseases they are prone to and the partial growth of their organs.
Interesting Facts About Teacup Yorkies
They are not too different from the regular Yorkshire Terriers but just come in a mini package. However, due to increased breeding, improper nutritional intake or illegal breeding practices, this breed can suffer from more health problems than the regular Yorkie.
The Teacup Yorkie is in high demand in the market. These mini dogs exhibit all the characteristics present in the bigger ones. However, they also require great care and attention. People who cannot take proper care and give enough time to them should never have a Mini Yorkie as a pet.
A little carelessness can go a long way and lead to an emergency vet visit. Their meals should be nutritional and on time. It is advisable for you to get a Teacup Yorkie only if you have enough prior experience of keeping a pet.
Factors That Determine the Price of a Teacup Yorkie
There are various factors that determine the price of a Teacup Yorkshire.
American Kennel Club Breeder
If you are buying it from a registered American Kennel Club (AKC) breeder, the price is definitely going to be high, ranging from $1,200 to $1,500. If the price demanded is less than this, it is probably because the breeder is not associated with the American Kennel Club. This is a very delicate breed to keep, so make sure the breeder you are buying from is well-knowledgeable and skilled enough, and being associated with the AKC will ensure this.
Yorkie Age and Health
While buying Teacup Yorkies, it should be kept in mind that they do not live as long as regular Yorkies. Hence, the greater their age at the time of purchase, the lesser the price and vice versa.
Teacup Yorkies suffer from a lot of diseases like low blood sugar level and digestive problems and due to being small, they suffer a lot of injuries. Thus, they might need some special treatment. When you are making a deal, do not forget to check for any injuries the puppy might have or any diseases it might be suffering from already. It is recommended to buy a 6-month-old puppy as at this age, it is easier to observe its growth and the diseases it might have already.
The price of a puppy also depends on if you are buying a newborn directly from the breeder, which results in a higher price. However, if you are buying an older puppy, you can save some of your money there.
Tricks
The tricks and signals that puppies already know also determine how much they should cost. If they already know some tricks, are potty-trained and obey their owner, they are going to cost you more.
Gender
The gender of the pup also sometimes determines the cost and price. Generally,femalepups are sold for a higher price for breeding purposes. Furthermore, usually, female Teacup Yorkies might die along with her pups while giving birth due to the process and/or deficient size of its reproductive organs, which causes shortage of female dogs and results in high price for them.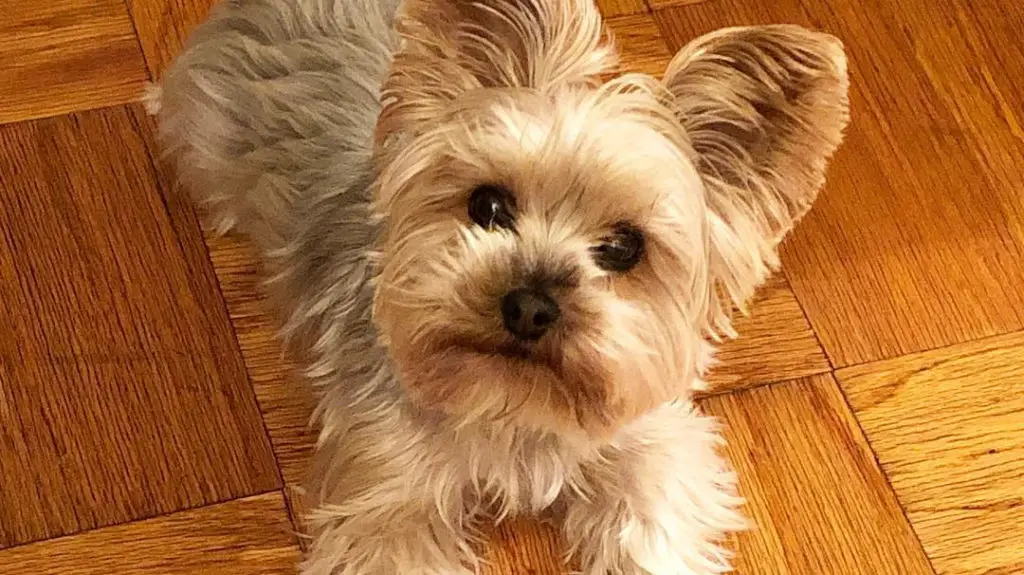 Location
The location of the dog also controls the price. If you are acquiring it from another city, your cost is going to go up due to transportation. Similarly, if you are importing from another country, the airfare will add up.
Ancestry
What comes next in deciding the price of a Teacup Yorkie is its bloodline. If the pup you are buying is a pure breed and the owner has all the legal documents, it is going to cost much higher. The value of the pup's parents matters a lot here. The greater their reputation, the greater the price.
Beauty and Color Combination
Another thing that plays a significant role in deciding the price of a Yorkie is the color combination of its coat. If it has a coat with color combinations that are usually associated with purebreds, its price is going to rise and vice versa.
Apart from this, the texture of the fur also matters. Smooth, soft and silky texture is always high in demand and price as compared to rough and hard fur.
Beware of Unethical Yorkie Breeders
With all that said, it is recommended to adopt a puppy instead of buying one. The hyped Toy Yorkies have attained a lot of attention by both good and bad breeders in the market.
Shady breeders force their birth by using underdeveloped parents and/or starving the mother. This might be a big threat to the mother and her offspring. A fraud breeder might also sell you a dog as a teacup, but it may grow into a full-sized regular dog.
By buying from such breeders, the industry of fraudulent and illegal practices is boosted. They are encouraged to indulge in more and more inhumane exercises like these, which may cause serious defects in the newborns.