Dogs are our best friend through thick and thin. They share every ups and downs of our lives. This bond we share with our beloved companion should not be restricted to just joy.
Their health and eating and exercise habits should also be an important part of our everyday routine.
It is important to notice any weight gain in your dog to prevent associated health issues. A few extra pounds might not lead to immediate death, but the fact remains that overweight dogs have diminished life qualities and are predisposed to health problems like arthritis, diabetes and hypertension.
Losing weight can be a challenge for a dog, but it's worth the effort. Slender dogs not only get around easily but also live longer.
Helping your dog maintain an appropriate weight can improve and extend their lives as well as yours. If your dog needs to shed weight, the following five tips can help you.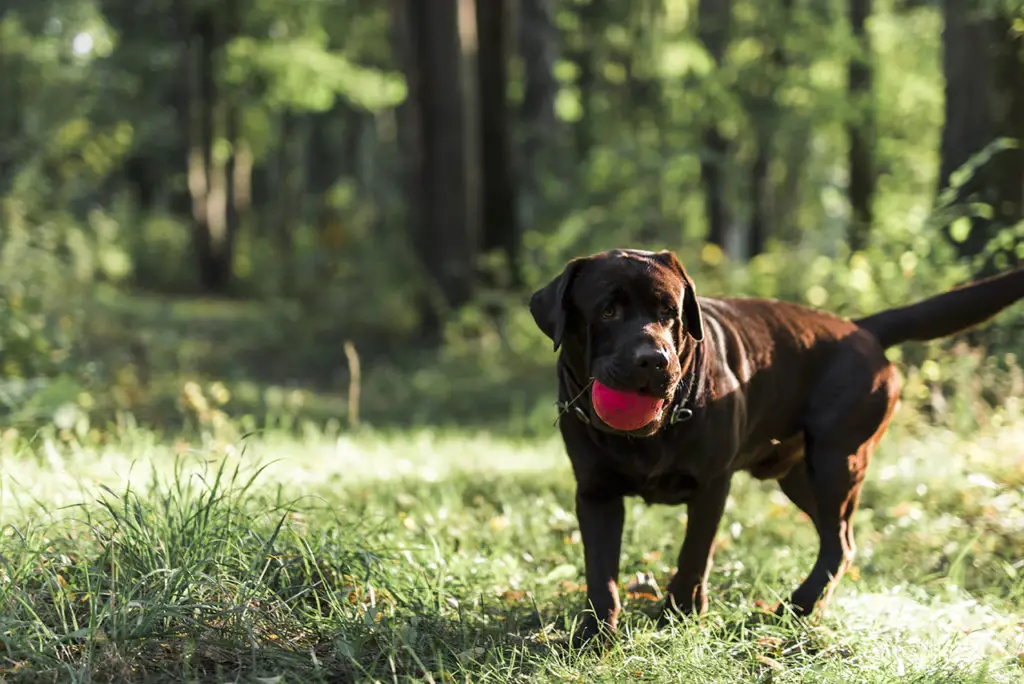 1. Calculate Calories and Control Carbs
Too many calories with too little exercise willultimately result in excess weight gain in your dog. Remember that the feeding guidelines provided by your dog's food bag are usually overestimated.
The commercial dog food is full of fillers and provides excess calories but not the desired nutrition. This leaves your dog with excess waste and insufficient energy, which can make it lethargic and lethargy ultimately leads to obesity.
You need to cut back the number of calories you provide to your dog. For this, you can ask your vet to calculate the number of calories your pet needs each day and follow their recommendation.
Dogs don't need a high-carb diet, but that's what we give them. The ratio of carbohydrates to proteins and fats matters more than calories. Many commercial dog foods contain 60% carbs, which is more than what your dog needs.
It needs a high-protein diet, which is essential for the lean build of their muscles. Also, the high protein satisfies the appetite, which helps keep its health and weight in perfect balance.
Cutting the carbs from your dog's diet will not only help it lose weight and build lean muscle but also improve its skin and coat quality.
2. Measure Meals
If you think your dog's bowl needs to stay full, you are absolutely wrong. Letting your dog snack all day can be detrimental to its health.
Most pet owners 'guesstimate' the amount of food they should be giving to their dogs, which ends up being a bowl full of snacks.
Studies have proven that your dog does not need too much food and giving it those few extra kibbles are only adding to its weight.
The Association for Pet Obesity Prevention has proven that adding as little as ten extra kibbles in food can result in a pound of weight gain per year in small dogs.
To fight this problem, the best tool for a dog parent is a measuring cup. After you determine how much calories your dog needs, determine how much food you should feed it at each meal.
3. Give It the Vital Veggies
It might come as a surprise to you, but most dogs love green vegetables and fresh fruits. Baby carrots, green beans, cucumber and broccoli can even help your dog lose weight.
They are nutritious and healthy as well as much better treats. You can also use different kinds of berries, green beans, bananas or ice cubes. Make sure not to feed a full apple or banana to your dog as it contains a high sugar content.
4. Tackle the Treats
It might look cute watching your dog wagging its tail for that little piece of kibble, but bear in mind that those few pieces are harmful for its health. Replace the market-bought treats with the homemade nutritional ones.
Use berries and sliced apples and make sure it earns its treats. Use the treats as a reward for good behavior because pets need to earn the extra goodies.
5. Hustle for Its Health
Maintaining a healthy lifestyle is about more than just weight loss. This rule is applicable to your dog as well. A 30-minute walk per day can boost its stamina, cardiovascular activity and immune system, reduce joint pain and reduce certain behavioral problems. Try playing games of fetch and hide and seek that can get your dog moving.
Keep your dog hydrated while you make it exercise. The more you keep your dog moving, the active it will stay.
Another great therapy for dogs with joint problems is swimming. A dip across the pond and pool can take the pressure off the joints. Keep the exercises fun by using different toys on different days. A healthy dog is a happy dog.
Conclusion
These were the basic and most effective methods that can aid in the improvement of your dog's health. Apart from these, you can add basic supplements to your dog's diet to keep it fit. Just like humans, a dog can benefit from taking a daily omega-3 fatty acid supplement.
You can also make annual visits to your veterinarian. Keep check of your dog's weight and compare with previous weights. Calculate the amount of fat present in your dog's body so that you can plan the diet and exercise chart accordingly.
Keep in mind that weight loss does not happen overnight. It is a slow and gradual process. There are no quick tricks to fix a canine's extra weight, but it's not an impossible task to get your dog back in shape. You need to be patient and consistent and give the process time.
To ensure your dog is healthy enough to start a weight loss program, consult a vet before making any major changes to its diet and exercise.
It is our responsibility to help our pets maintain a healthy weight. It's up to pet owners to feed them healthy and nutritious foodand give them daily exercise. The gradual habitual changes have the most impact. Thus, focus on making changes that integrate a healthy diet and exercise into routine.